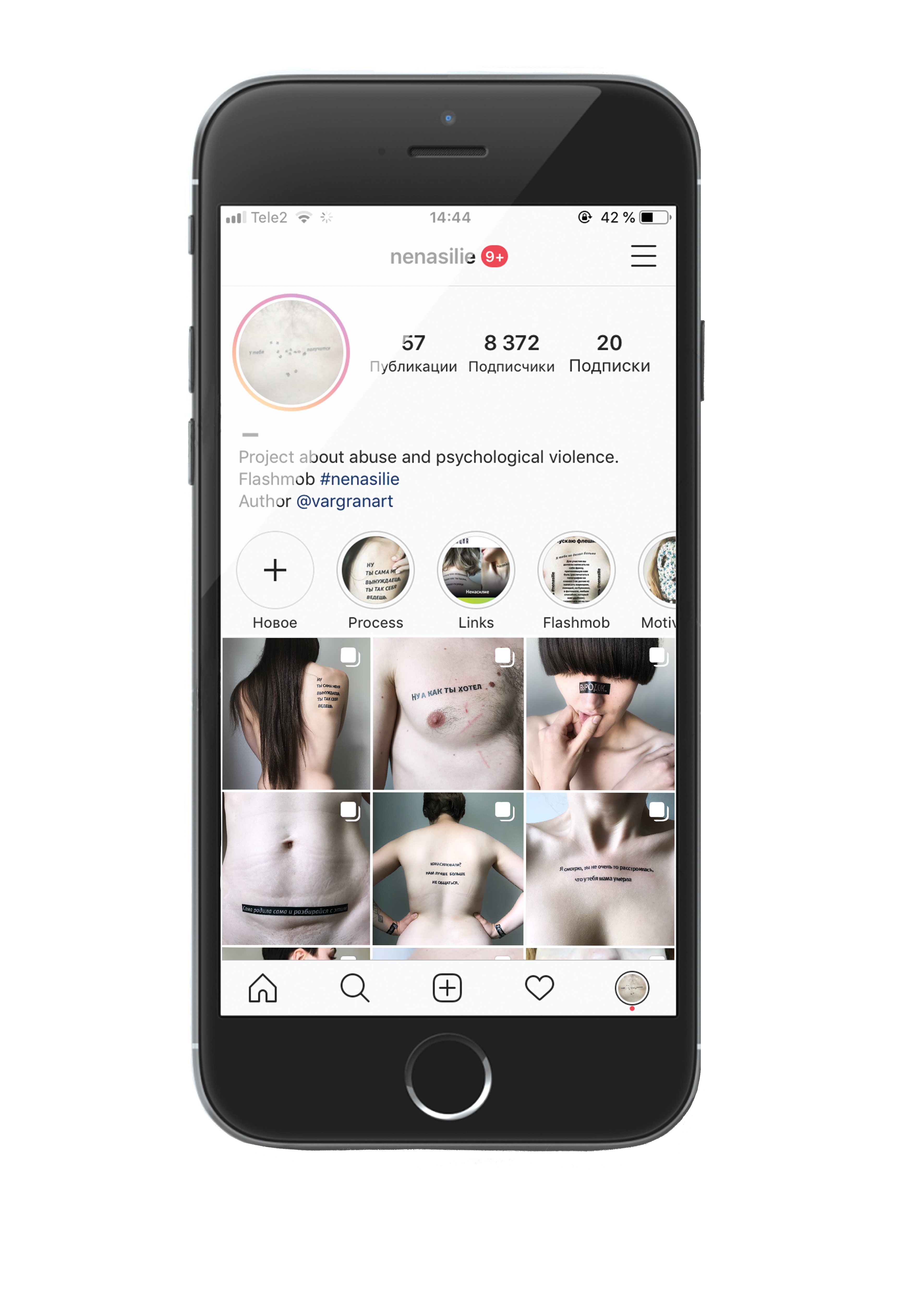 Varvara Grankova
@nenasilie
About the Item
@nenasilie is a social and interactive project that exists within an Instagram account. On it, the artist shares photographs of people with sentences that caused them pain written on their bodies. The second photo in the gallery is a transformation of these sentences into the words that the person in the photo would rather have heard instead. The #nenasilie hashtag currently encompasses more than 400 photos. This work captures one difficult aspect of modern culture: psychological violence and abuse. This Instagram account became a continuation of Varvara Grankova's exhibit of the same name, which took place at the Moscow Museum of Contemporary Art in 2018.
18+
About the Artist
Varvara Grankova, born in Moscow in 1988, graduated from the National Design Institute and continued her artistic education at School of Contemporary Art "Free Workshops" apart from ongoing musical training since youth. Been exhibiting her works since 2012, she had her first solo exhibition "Nonviolence" in MMOMA in 2018. The winner of special sustainable art of Arte Laguna prize 2021, finalist of Arte Laguna 2020, winner of Arte Laguna 2021, winner of the Tretyakov Prize, participant of the first Feminale of Contemporary Art. The artists works are in the MMOMA collection.
Varvara is interested in social issues, with ecology, trauma and feminism as major themes in her work. Using a combination of installations, graphics, digital art and performance – where the use of her voice stands out – she is able to bring out different facets of these issues with a refreshing vitality and sense of urgency. Another distinguishing feature of her work is the use of crowd sourced materials and stories that are then recast in new forms.