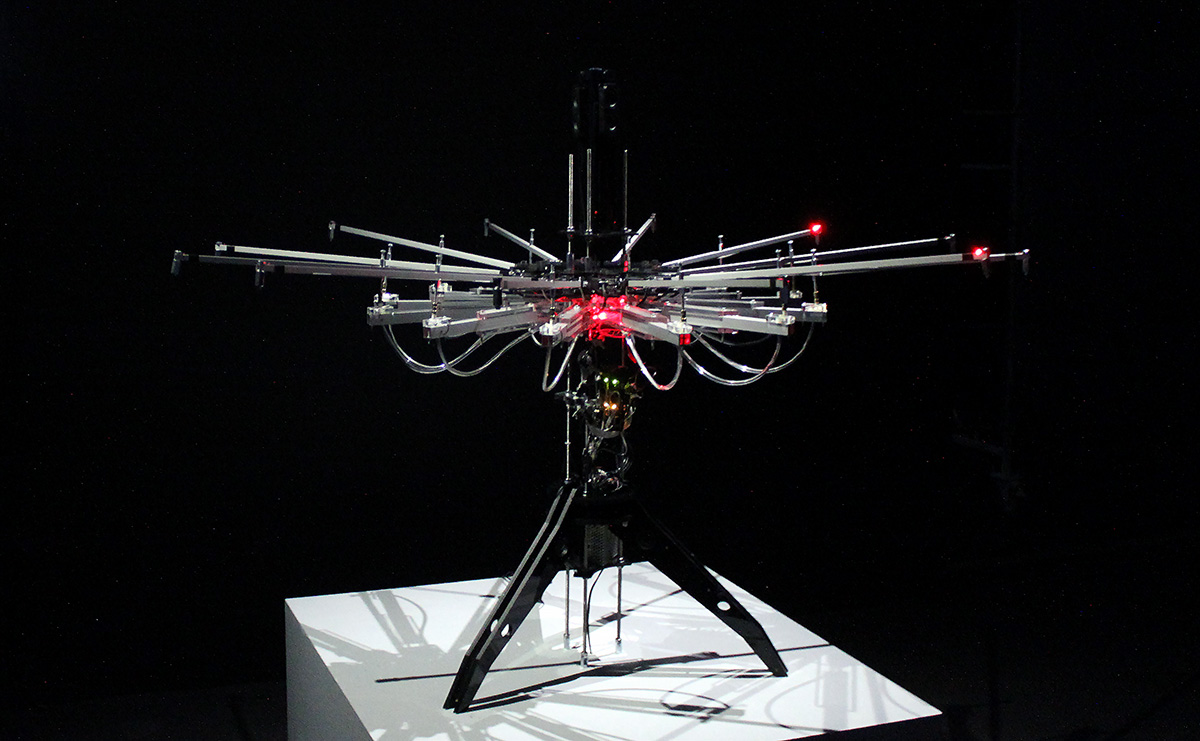 ::vtol:: (Dmitry Morozov)
adad
2021
Kinetic light and sound installation
Exhibition view. Biennale 'Art for the Future', 2021. Photo: MAMM
About the Item
This installation is a mechanism that serves as a kind of interface between planetary processes and an audience. It consists of 12 transparent piezocrystals, grown especially for the project, and 12 motorized hammers that strike them. The installation is connected to the internet. Its core algorithm is controlled by data from a meteorological site which shows lightning strikes in real time (on average, 20-100 lightning flashes occur on the planet every minute).
Each time the installation receives information about a lightning strike, a hammer strikes one of the crystals, resulting in a small electrical discharge produced by the crystal under mechanical stress. Each of these charges activates a powerful lamp and sound effects.
*Piezocrystals (potassium sodium tartrate, or Rochelle salt) produce electricity when mechanically activated. They are used to make microphones, motors and other mechanisms.
About the Artist
Dmitry Morozov aka ::vtol:: is a transdisciplinary artist and researcher. He focuses on contemporary media arts including sound, robotics and installation, placing special emphasis on the link between emergent systems and new kinds of technological synthesis.

His works have been exhibited at museums and galleries worldwide, including the NCCA, MMOMA, Garage Museum of Contemporary Art, Tretyakov State Gallery, Electromuseum, Laboratoria Art&Science Space (Moscow), Laznia Center for Contemporary Arts (Gdansk), ZKM Zentrum (Karlsruhe), Boulder Museum of Contemporary Art (Boulder), National Taiwan Museum of Fine Arts (Taichung), Kapelica gallery (Ljubljana), ArtScience Museum (Singapore) etc., in 4th MBCA (Moscow), SIGGRAPH 2016 (Anaheim) and in festivals such as Mirage (Lyon), Ars Electronica (Linz), Future Everything (Manchester) and CTM (Berlin).